A broken washing machine can be a major inconvenience, especially if you have a large family or do a lot of laundry. Our technicians are experienced in diagnosing and repairing all types of washing machine problems, including issues with the motor, transmission, and belts. We offer same-day washer repair service to get your machine up and running again as quickly as possible. You don't need to take your clothes and go all the way to a laundry. By calling us, you will be able to receive same-day washer repair services in Midtown Toronto.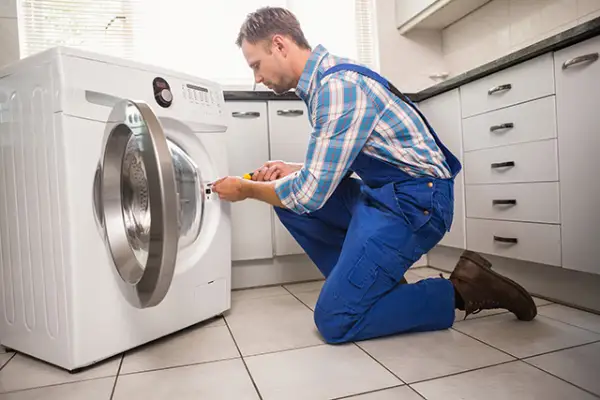 A broken oven can be a major inconvenience, especially if you enjoy cooking or have a large family. Our technicians are trained to diagnose and repair all types of oven problems, including issues with heating, temperature control, and broken parts. We offer same-day oven repair service to get your oven up and running again as quickly as possible. No matter whether you have an old oven or a new model, we are capable of fixing it for you.
Comprehensive Repairs and Maintenance Services

At EasyRepair, our experienced technicians are trained and certified to provide comprehensive repairs and maintenance services for all sorts of home appliances such as refrigerators, dishwashers, freezers, ovens, stoves, washers and dryers, and more. We use only the highest quality parts in order to ensure that your appliance is working efficiently and effectively. Our affordable prices and commitment to customer service will have you feeling confident in your purchase.

Midtown Toronto office workers can often experience long wait times for appliance repairs, leading to unreliable service and longer downtimes. That's why EasyRepair provides fast, same-day service in Midtown Toronto. Whether it's a broken refrigerator or a malfunctioning washing machine, we're committed to getting your appliances fixed quickly and efficiently so that your daily activities are never interrupted. Our trained technicians have years of experience and are familiar with all the popular brands, making them the perfect go-to for appliance repair needs in Midtown Toronto!

Experienced Technicians Serving Your Area

EasyRepair is proud to serve Midtown Toronto and the surrounding areas, providing reliable and professional appliance repair services where and when you need them. All of our technicians have many years of experience and knowledge in the industry and are trained to provide quality repairs on all major brands. Our same day service means that your appliance repair needs can be addressed quickly and efficiently, so contact us today for fast, expert service!

We understand how important your appliances are to your daily life, so we offer same day service and fair pricing to ensure that your repair process is as smooth and stress-free as possible. Our technicians can take care of any issue, from broken washers and dryers to stove maintenance or fridge problems. We guarantee all of our work, so you can be sure that our repairs will last for years to come. Contact EasyRepair today for all of your Midtown Toronto appliance repair needs!

EasyRepair has experienced technicians that specialize in a wide range of appliance repair services. We service all major kitchen, laundry, and outdoor appliances in the Midtown Toronto area. Our team is dedicated to providing honest and reliable customer service, so you can trust that you are getting the best possible solutions at good prices. We will provide quick diagnosis of any problem and then thoroughly explain your repair options before we begin any work. When you call EasyRepair for your appliance repair needs, you can rest assured knowing that our experienced technicians will be respectful of your time and home while performing repairs with efficiency and quality.

Same Day Service Available in Most Cases

Whether you need a refrigerator, dishwasher, or dryer repair, EasyRepair has you covered. In most cases, same day service is available and our technicians will arrive at your door ready to tackle the problem right away! No matter what the issue is with your appliance, EasyRepair has seen it all and we have the knowledge to resolve your repair quickly and efficiently. With timely repairs and reasonable rates, EasyRepair can help keep your home running smoothly.

We understand that a broken appliance can create a lot of stress and hassle, which is why we work around the clock to assure both timely repairs and fair pricing. Our team of technicians have years of experience in various types of appliances, so you can be sure they have the necessary skills needed to help fix your appliance properly. No matter what type of appliance needs fixing – from refrigerators, ovens, stoves, washers, dryers and dishwashers – EasyRepair is here to provide the best quality service for Midtown Toronto residents.

Fast, Affordable Appliance Repair Services

EasyRepair offers quick, affordable appliance repair services in Midtown Toronto. Our skilled technicians are experts in repairing all types of home appliances, and they come prepared with the latest tools and technology to diagnose and fix any problem. We offer same day service for most repair jobs and our rates are always competitive so you can trust that you're getting a great value for the quality of service we provide. Give us a call today for fast, reliable appliance repairs that won't break the bank!

Highly-Trained, Experienced Technicians

At EasyRepair, we take pride in the quality of our repair services. Our technicians are experienced and highly trained in all types of appliance repairs, and they use the latest and most reliable tools to diagnose and repair any problem you may have. We also use genuine parts and components so you can be sure that your appliances are safe and working properly.