Maytag Electric Dryer Repair in Toronto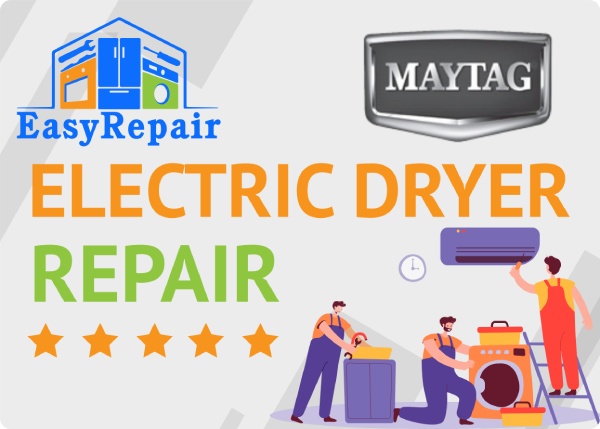 Are you in Toronto and looking for dependable Maytag electric dryer repair services? We are experienced technicians who specialize in repairing all models of Maytag electric dryers, so you can trust us to get the job done quickly and efficiently.
We Repair Any Make or Model of Maytag Electric Dryer
Whether you have a basic model or a more advanced machine, our team can take care of your Maytag electric dryer repair needs in Toronto. Our technicians are highly trained and specialize in repairing all types and models of Maytag dryers. We use up-to-date tools and methods to ensure that your appliance is fixed the right way and will work safely and efficiently.
With our expertise and quality parts, we are able to make the repair process go smoothly and stress-free. We work quickly and accurately to get the job done so that your life can return to normal. Our experienced technicians are knowledgeable about all types of Maytag electric dryer repairs and maintenance, which means you'll get reliable service that is tailored to your specific needs. Additionally, we stand behind our repairs with an excellent warranty, giving you peace of mind every time you use your Maytag electric dryer.
Our Experienced Technicians Specialize in the Installation and Maintenance of Your Maytag Electric Dryer
Our experienced technicians have years of experience in the installation, repair and maintenance of Maytag electric dryers. The professional service technicians at EasyRepair understand the complex internal workings of these specialized machines, so you can be sure that your Maytag is being repaired correctly. Whether it's broken parts, electrical problems or worn-out components, we will find a solution for you quickly and effectively.
Our trusted team doesn't just provide excellent repair services—they can provide valuable maintenance services as well. We know how precious your Maytag electric dryer is which is why we focus on Preventative Maintenance measures to keep your machine productive and reliable so you can enjoy years of service from it. We will come out and inspect all the internal mechanics of the dryer, replace any worn parts, lubricate components, and clean out the interior to ensure that it runs efficiently every time.
We Provide Warranty Coverage On Repairs, Parts, and Labour.
Our technicians understand that when you purchase an expensive appliance such as a Maytag electric dryer, you want to be sure it is covered with warranty coverage. At EasyRepair, we offer our customers comprehensive warranty coverage for all repairs and parts used in the repair of your Maytag electric dryer. In addition, our knowledgeable and experienced technicians provide exceptional labour warranties to ensure their work meets the highest levels of quality standards.
When you contact EasyRepair for Maytag electric dryer repair in Toronto, we provide a hassle-free experience. Our technicians are available seven days a week and offer same day service to get your appliance up and running as quickly as possible. We also use only genuine Maytag parts and superior workmanship that gives our customers the confidence to know their purchase is backed with reliable warranty coverage. With our commitment to excellence and attentive customer service, you can depend on EasyRepair to be your preferred appliance service provider in Toronto.
Rely On Us For Diagnostics and Troubleshooting of Any Issues With Your Maytag Electric Dryer
Don't worry if you are having problems with your Maytag electric Dryer in Toronto. We offer professional diagnosis and troubleshooting services for all of your Maytag needs. Our experienced technicians can quickly identify the issue, provide the required repair and part coverage, and get your dryer running efficiently again without causing you any further frustration or inconvenience.
Whatever the issue, our team of experienced professionals provide efficient and reliable service. We will diagnose any issue and fix it quickly and correctly. We use only the highest quality parts and tools to ensure a job well done that will last for years to come. Our technicians are trained to provide exceptional customer service at all times, so you can always rest assured knowing that your Maytag electric dryer repair is in good hands!
Maytag Electric Dryer Common Problems
No heat/not heating up

One of the most common issues when it comes to electric dryers is that it does not get hot enough, or completely fails to generate any heat altogether. This can be caused by a malfunctioning thermostat, Thermal Cut-Off Switch, a faulty heater element, or blocked airflow in the vent system.

Drum won't spin

The drum won't spin issue could mean that the dryer's motor is weak or burned out, an issue with the start switch, belt slipping off its motor pulley or worn out drum rollers are just some of the possibilities for this kind of problem.

Too noisy

Excessive noise during operation can be caused by defective components such as worn out drum glides and bearings, issues with the blower wheel and motor assembly or a clogged lint filter that has restricted air flow in the machine and much more.

Clothes still wet after cycle ends

When clothes remain wet even after completing an extended drying cycle there may be an issue with incorrect temperature selection settings, insufficient airflow through your dryer vents, crumpled clothes blocking air flow and more.

Excessive lint on laundry/lint trap cleanout

Electric Dryers accumulate excess lint inside the ventilation system if preventive maintenance is not done regularly throughout their life cycles; therefore a thorough cleanout from time to time should help you solve this issue.

Fuse keeps blowing/Tripping Breaker Panel

Unfortunately this indicates too much power flowing into your machine which may be due to damage to one of its components such as open motors coils or other defective parts within it that are prone to overheating causing dangerous currents levels for your home's electrical wiring as well as for your own safety; therefore immediate attention from a trained technician is recommended in cases like these before any further usage of your electric dryer in order to avoid risks like electrocutions and severe damages due to fires originating from overloading circuits with excessive power.
Maytag Electric Dryer error codes
F01

F01 is the code for a faulty motor control circuit, which means there's an issue with the wiring or communication between the motor and control board. If you're dealing with this error, it's important to inspect the electrical connections of your dryer.

F02/F70

The F02 or F70 code usually means that there's a belt problem in your Maytag Dryer, especially if it won't start spinning. Check for any frayed or worn spots on the belt that may be causing interference.

F03/F71

The F03 or F71 code might indicate that the thermistor isn't working correctly, which could cause your electric dryer to overheat during operation due to a false reading from the sensor. You should check for any faulty wires and loose connections connected to the thermistor first before proceeding with any repairs.

F04/F72

If you see an F04 or F72 code on your Electric Maytag Dryer, then there may be a problem with either the roller or bearing assembly in your machine. This generally involves replacing these parts right away in order to bring back proper function of your dryer once again!

F05/F73

The F05 or F73 code normally indicates that something is wrong with the door switch inside your dryer, either because it isn't properly installed or simply broken down and needs replacing altogether! Make sure all connections are snugly fastened so as not to risk further damage on other components within your electric Maytag Dryer!

F06/F74

The dreaded "Error Code 6 of 74" can happen when a problem occurs within the heating element of your Electric Maytag Dryer, indicating most likely too much lint buildup around it that then leads to overheating and ultimately failure! Ensure you clean outany excess lint buildups both around and inside of your dryer whenever possible.

E09/E11

E09 codes mean E11 codes refer to an electronic issue involving high-voltage elements such as wire harnesses or relay boards needed for starting up motors within your electric Maytag Dryers. If you get one of these codes, make sure all hoses and connectors are securely attached and also inspect for any signs of burnt wires before troubleshooting further!
Maytag Electric Dryer Repair Service Areas
Downtown Core (Central)
East End
North End
West End
East York
Etobicoke
North York
Scarborough
York