Decoding the Samsung Fridge Error Code 33E
Your Local Appliance Repair Company
Is your Samsung refrigerator's display panel showing the annoying 33E error code?
Our expertise at EasyRepair is in identifying and fixing complicated appliance problems, such as the infamous Samsung fridge error code 33E.
Our skilled experts can quickly get your refrigerator back to its ideal state thanks to their knowledge, equipment, and experience.
Expert 33E Wizards

The 33E error is expertly decoded and defeated by our experts.

Swift Relief

Expect prompt resolutions and bid your refrigerator problems farewell.

Original Parts

To ensure long-lasting repairs, we exclusively utilize original components.

Clear Costs

No unpleasant surprises, simply peace of mind, with transparent pricing.

Happy Fridges, Happy You

A happier home benefits from a fixed fridge.
The confusing 33E error number on your Samsung refrigerator indicates a problem with the appliance's temperature sensor. This sensor is essential for monitoring the inside temperature environment and ensuring the safety and freshness of your priceless food items. Sadly, when this temperature sensor runs into a problem or an obstruction, it triggers the dreaded 33E error code, which breaks temperature stability and increases the likelihood that your stored goods may go bad.
At EasyRepair, we're committed to unraveling the complexities of this error code and bringing your fridge back to life so that your culinary treasures stay at the top of their game.
How We Can Fix It
We simplify the bother of resolving appliance difficulties at EasyRepair. You can anticipate the following when you trust us to fix the 33E error code on your Samsung refrigerator: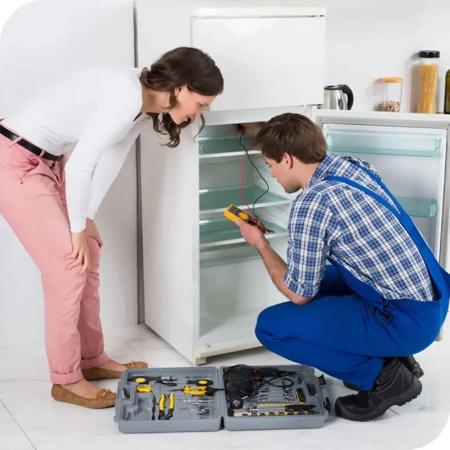 Expert Diagnosis

To determine the underlying reason of the error code, our skilled professionals will conduct a thorough diagnostic evaluation. The temperature sensor, wiring, and other pertinent components must all be thoroughly tested.

Precise Repair

Once we've located the problem, our knowledgeable specialists will start making the required repairs. We have the know-how to handle any issue, whether it involves recalibrating the temperature sensor, swapping out broken parts, or fixing wiring issues.

Genuine Parts

We favor offering solutions that endure. In order to preserve the performance and lifespan of your appliance, we only ever replace it with original Samsung parts.

Timely Service

We are aware that a broken refrigerator can interfere with your regular activities. We make an effort to offer prompt service in order to reduce downtime and inconvenience.

Transparent Communication

We keep you updated on the progress and any further measures necessary during the repair procedure. We value open communication, reasonable pricing, and no unpleasant surprises.

Customer Satisfaction

Your satisfaction is our main priority. We back up the caliber of our repairs with a guarantee on our craftsmanship. We put your complete satisfaction and peace of mind first.
How to Hire us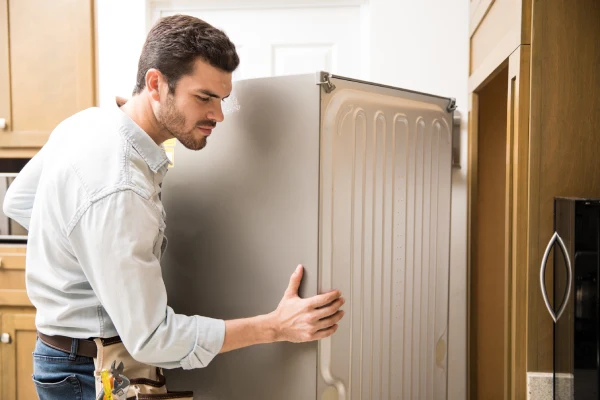 Contact Us

Contact us via phone, email, or through our website. Our helpful staff is prepared to help you.

Describe the Issue

Tell us about the 33E problem code that your Samsung refrigerator is showing. The more information you give, the better able we are to help you.

Schedule a Visit

We'll work with you to choose a time that works for our technicians to come to your site. There may also be options for virtual consultations.

Diagnosis and Estimate

In-person or remotely, our professionals will diagnose the problem. You'll get a precise cost estimate for the repair.

Approval and Repair

Give us the go-ahead once you're satisfied with the estimate. The error code will be fixed by our staff using their magic.

Quality Check

We make sure everything is flawlessly functional and the 33E error is no longer there.

Payment and Smile

Our reward is your satisfaction, and payment is simple. Your refrigerator is now fault-free and prepared to assist you!
Schedule Your Samsung Fridge 33E Error Code Repair Today
Are you under undue stress as a result of the recurrent 33E error code on your Samsung refrigerator? Contact EasyRepair to say goodbye to the frustration and hello to hassle-free solutions. Your fridge's performance will be totally recovered thanks to the superb repair services provided by our team of highly qualified experts.
Stop allowing this error code to compromise the efficiency of your appliance or the quality of your stored food. You can once more take advantage of the convenience of a fully functional Samsung fridge thanks to our professionals' ability to quickly identify and resolve the problem.
Your pleasure is our guarantee at EasyRepair, not just a goal. We are dedicated to providing high-quality appliance repair services that you can trust since we recognize how essential a properly working fridge is to your everyday life. We take pride in being your go-to partner for addressing appliance problems because our track record speaks for itself.
FAQs