Frigidaire Fridge Repair in Toronto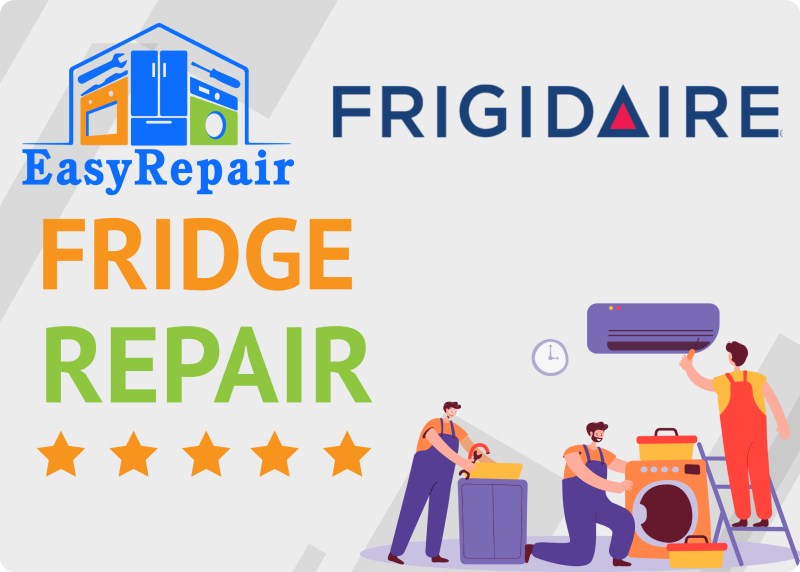 Breaking down and in need of repair? EasyRepair for the best Frigidaire refrigerator repair services in Toronto. Our experienced professionals will quickly diagnose and fix any issues with your appliance, enabling you to enjoy a reliable fridge in no time.
Schedule a Fridge Repair Appointment in Toronto
If you're in need of a Fridge repair appointment, EasyRepair makes scheduling easy! With our online repair form, you can submit your issue and arrange an appointment at your convenience. Our technicians are ready to provide fast and reliable appliance repair services, ensuring you have a functioning Frigidaire fridge as soon as possible.
All of our repair specialists are highly trained and fully insured, so you can trust that your appliance is in good hands. We take the time to accurately assess the issue before recommending a solution that fits your budget and needs. Our technicians use only high quality replacement parts for Frigidaire fridges, ensuring quick and effective repairs. With easy online scheduling and helpful customer service, EasyRepair can help get you up and running with a reliable rust-free fridge in no time.
25 Years Experience
Licensed technicians with over 25 years of experience
Warranty
Full warranty on all our services and parts
100% Satisfaction
We offer 100% Satisfaction Guarantee
Licensed Technicians
Certified and Trained Technicians
Professional and Experienced Technicians
With our team of experienced technicians and repair experts, you can trust EasyRepair to deliver quality repairs that get your Frigidaire fridge in tip-top condition. We diagnose any issues with efficiency, providing thorough troubleshooting to eliminate any potential problems before they become larger ones. Plus, our specialized parts department stocks the latest genuine Frigidaire parts, so you know your fridge is receiving the highest performance possible when serviced by our team.
With our Frigidaire fridge repair and maintenance services, we can help prevent breakdowns before they happen. We also provide professional cleaning and tune-ups that keep your fridge operating at peak efficiency all year long. Our team of technicians will thoroughly inspect each component to avoid any potential repairs down the road and save you time and money in the long run. Peace of mind is a must when it comes to refrigerators, and you can be sure that you are getting it at EasyRepair.
Quick Diagnosis and Troubleshooting Solutions
EasyRepair's trained technicians can quickly diagnose and troubleshoot any issue with your Frigidaire fridge. We identify the root cause of the problem to prevent it from recurring, ensuring that you don't have any annoying appliance breakdowns in the future. All our repairs are done at an affordable price and you will never be charged if our services aren't successful.
We offer fast, reliable repair services for all Frigidaire models. Whether your fridge is not cooling or making loud noises, you can count on us to have it running like normal in no time. Our technicians use the latest diagnostic technology and genuine Frigidaire parts to ensure the highest quality repair job. We also provide a warranty on our repairs and follow-up customer service so you're always kept informed of your repair status. With EasyRepair, you can say goodbye to inconvenient appliance problems and peace of mind knowing that we will always be there when you need us most.
Cost-Effective, Quality Frigidaire Parts Replacement
Our experts use only the best quality Frigidaire parts to repair your fridge, ensuring that it works as good as new. All our parts come with a warranty so you have peace of mind that your repair job will last. We also offer services at an affordable price so you don't have to put too much stress on your wallet. Plus, all our technicians are experienced and qualified in Frigidaire appliances repairs and can help with any problem that you might be facing.
No matter what issue your Frigidaire fridge is having, our technicians are equipped to fix it. We proudly serve the greater Toronto area with fast and reliable repair work. Whether you're dealing with a fridge that isn't cooling correctly or making funny noises, our team can handle it. Plus, we always stay within your timeline so you won't be stuck waiting for days for us to come in and service your appliance. Get your Frigidaire fridge fixed quickly and effectively today with EasyRepair!
Guaranteed Satisfaction with Fast Turnaround Time
At EasyRepair, we understand the need for fast repair services and hence we take great care to inspect, diagnose and fix your Frigidaire fridge as quickly as possible. We also guarantee satisfaction with our work — if there is anything you're not happy with after the repair has been completed, we will be more than happy to come back and rectify the problem.
All of our technicians are Frigidaire certified and have years of experience in repairing all major refrigerator brands including Frigidaire. We will arrive on time and ensure that the task is done right the first time. We use only OEM parts, so you can rest assured knowing your fridge repair is going to last a long time — we guarantee it. Plus, all of our repairs come with a full satisfaction or money back guarantee if you're not happy with the results, making us the most trustworthy fridge repair service in Toronto.
Frigidaire Fridge most common problems
Not Cooling Properly - The most common issue with a Frigidaire fridge is not cooling properly, caused by dirty condenser coils, a faulty temperature control thermostat or an issue with the compressor. The symptom of this problem is warm food and warm air when you open the door. You might also see the condensation on the outside of the refrigerator or hear the compressor running for longer than normal.
Not Defrosting Automatically - In some cases, your Frigidaire refrigerator may stop defrosting automatically due to a faulty defrost timer, an open circuit in the wiring harness, or a damaged temperature sensor. As a result, thick frost and ice can start to accumulate in the refrigerator compartment and affect its performance and cooling abilities.
Water Leaks - Another possible problem with your Frigidaire fridge is water leaks from its back side, which is usually caused by a broken water line tube or clogged drain hole at the back of your unit. This should be dealt with immediately as it can cause damage to your walls and floor if left unchecked for too long.
Strange Noises - Strange noises such as clicking, buzzing and humming sounds coming out of your Frigidaire refrigerator can indicate that something's wrong internally within your unit; it could either be due to loose parts like compressor beginning failure or failing fan motor inside that needs replacing soon to restore proper operation again.
Excessive Frost Build-up in Freezer - If you experience excessive build-up of frost in the freezer compartment then this could be an indication that something is wrong; this could mean that there's an issue with your freezer's door seal not working properly allowing cold air to escape from inside and allowing moisture from outside to enter into it causing frost build-up quickly instead of normally collecting around its walls like intended–this should be checked promptly for safety reasons so you don't end up losing all your frozen goods all at once!
Ice Maker Not Working Properly - An ice maker will eventually begin malfunctioning after continuous usage over time–it'll either stop producing enough cubes per day or worse entirely; this means there could be several internal issues inside preventing it from doing its job right like defective valves or refrigerant coils needing attention before continuing use again safely–so contact an experienced appliances technician nearby if needed!
Frigidaire Temperature Settings being Incorrectly Set - Sometimes humans forget to set their fridge temperature correctly prior leaving off home making chilled items spoiled faster than desired; thankfully Frigidaire fridges come already equipped with reliable sensors answering directly how much coolness requested at any given time--just make sure yours isn't mistakenly configured wrongly before going away giving peace of mind knowing food storage won't have nightmare trusting such advanced combination!
Frigidaire Fridge Most Popular Models and Their Problems
FGHB2868TF

The FGHB2868TF is a popular 25-cubic-foot French door refrigerator from Frigidaire that features adjustable shelves, flip-out storage bins, and a temperature control system. The doors can be opened with either left hand or right hand hinges, and the interior also features adjustable humidity crispers for keeping produce fresh. However, some people have reported issues with the coils freezing over and causing water leakage. Also, condensation has been reported in the refrigerator's display panel.

FFHB2750TS

The FFHB2750TS is a side by side model of refrigerator from Frigidaire that comes with twenty four cubic feet of space and exterior ice and water dispensers on both the left hand side and right hand side respectively. It also features adjustable glass shelving, an adjustable temperature deli drawer, freezer lights, optional filtered ice maker and LED lighting throughout the refrigerator's interior. Unfortunately, some users have complained about loud noises emanating from this model due to motor failure or fan blade malfunctioning. Additionally, some issues regarding seal breakdown have been reported for this model resulting in air leaks which causes frost formation within it.

FGTR1845QF

The FGTR1845QF is a top mount refrigerator with 18 cubic feet capacity which comes equipped with spill safe sliding shelves which provide easy access to food items stored in it as well as rear wall cubby trays built below chill drawers to accommodate gallon container storage needs. Its door design is reversible depending on how you want to open the fridge while its bright interior light makes it easy to see what's inside even at nighttime without turning on any other lights in your kitchen. On the downside though, some customers experienced malfunctioning controls in their models resulting in freezing food even when set on maximum temperature setting along with several power outages automatically resetting all settings instead of maintaining them after usage resumed again after every power blackout situation occurring around your place of residence or business establishment where this Frigidaire model was being used at any particular time of day when experiencing electrical short circuit problems.
Frigidaire Fridge Repair Service Areas
Downtown Core (Central)
East End
North End
West End
East York
Etobicoke
North York
Scarborough
York